Contact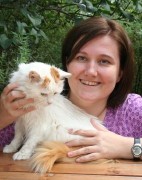 Position:

Course Coordinators - coordinating the courses and the course leaders
Sweden


This email address is being protected from spambots. You need JavaScript enabled to view it.
Download information as:
vCard
Miscellaneous Information
Ulrika is the headmaster of the PawAcademy. She has been involved from the start of the project, as it was all her idea. She has written or edited a lot of the course texts, and she is co-ordinating the PawAcademy. She is also leading courses, mostly higher level courses. Her specialties are population genetics, how to breed to avoid genetic diseases, and health programmes. She has studied these subjects a little bit at the university, and then she has been working quite a lot with health programmes, for instance starting the health programmes against HCM and HD that we are working with here in PawPeds. She also has studied pedagogics at the university. Ulrika has been breeding Maine Coons and sometimes Turkish Vans with the cattery name Ylletrollets since the early 1990s. She is an international FIFe judge for category II. She is also giving seminars on various subjects for cat clubs in Sweden and other countries.