Contact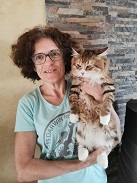 Position:

Course Leader: G1
This email address is being protected from spambots. You need JavaScript enabled to view it.
Download information as:
vCard
Miscellaneous Information
Since the age of 6 when I finally persuaded my mother to adopt a cat, I have never lived without at least one cat at home; but it's only at the end of 2012 that I was able to give free rein to my passion with my new companion, going from 2 neutered cats to the Maine Coons breeding; I then discovered the Kurilian bobtail when a breeder brought one back from Russia and then studied the subject in depth during the first PawPeds assignment to finally start with 3 cats in 2017; my family lives in the South of France - St Jean de Cornies - and now includes 2 males, 5 Kurilian females and the 3 spayed coons but also a house cat, a Tibetan terrier female...And always my daughter and my companion! To know more, I'm also studying to become a feline behaviorist. Traouiero is the name of my affix and that of a valley in Brittany (Bretagne) close to where my father lives and my roots.