Contact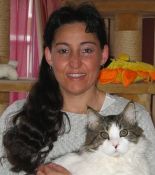 Position:

Course Leader: G1, G2
Netherlands


This email address is being protected from spambots. You need JavaScript enabled to view it.
Download information as:
vCard
Miscellaneous Information
Diana started breeding domestic shorthairs in 1997. Soon she wanted to breed pedigree cats instead, so in 2001 she switched over to breeding Maine Coons. She lives in a very small village Schelluinen in The Netherlands. Her cattery name is The Haecoon. Diana is teaching in our Dutch/Flemish course.