"This page was originally a part of the Maine Coon Heritage Site, a site that was first created in 1998 by Cynthia Bowen (Coontopia), Ulrika Olsson (Ylletrollets), Astrid Straver (Tricks and Tails) and Janet Marr (Furkats). It was then taken over by PawPeds, and it is now split up to fit better with the structure of PawPeds' website."

Guldfakse Cattery - Dortemarie Kaplers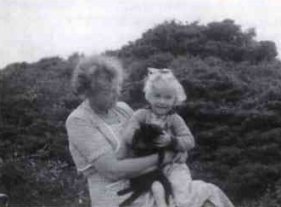 Dortemarie Kaplers as a child
with her grandmother
and a special pet.
| | | |
| --- | --- | --- |
| Cattery Name: | | Guldfakse's |
| Established: | | 1985 |
| First Maine Coon: | | Mainline Acadia |
When one starts out as a cat breeder, it is often very difficult to find a path. Ideas change along the way, as do the cats, and the line one ends up with is often very different from one's original choice. Not so with Dortemarie Kapiers, of Guldfakse's Maine Coons in Denmark. Once she had started to breed, she chose her type with care, took her path and stuck to it, and has a name in Europe as one of the most successful Maine Coons breeders - a well-deserved reputation. Her cattery name is widespread through European pedigrees and her cats breed consistently and show well. So did the success come easily?
Her first knowledge of Maine Coons was 25 years ago, when her grandmother returned from a visit to a friend in Canada, full of stories of her friend's beautiful, friendly cats. She admits that she was more interested in her Old English Sheepdog at the time and paid little attention to her grandmother's stories. A Sheepdog-owning friend of Dortemarie imported a Norwegian Forest Cat (NFC) in 1976, which aroused her interest in cats and, in 1978, the first NFC joined Dortemarie's household and introduced her to the world of cat breeding. It was not unti1 1982, five years after the death of her grandmother, that Dortemarie found an envelope of pictures from her trip to Canada, including pictures of the cats. As Dortemarie says: "Guess what? The cats were Maine Coons. Now I was interested!"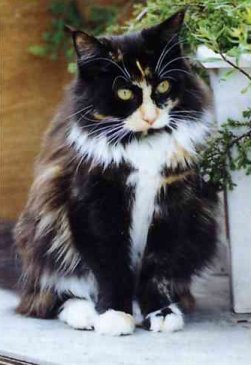 Guldfakse Scarlett
She takes up the tale: "In 1983, I went to a cat show in Berlin. There were 28 Maine Coons on exhibition, as the FIFe Judges Committee had to decide whether or not they would recommend the Maine Coon to be recognised as a new breed in the FIFe. All the cats were American Maines. To me they looked like Norwegian Forest Cats! I simply could not see the difference. At that time, I had a young silver tabby NFC, who was cleaning up in all the rings where he was shown. One year he was 'Best Norwegian Forest Cat in Europe'. To us he was the standard. One of the Maines at the Berlin show was a silver tabby male; this cat and my cat looked like brothers. So I asked an American breeder at the show to tell me the difference. She did - and I still could not see it. Who was right and who was wrong? I later found out that I was wrong, not the American breeder, and, when I realized that, I decided to try to convince everybody over here that we had to change our view on these two breeds."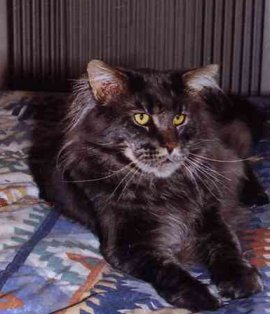 MtKittery Bemis (Dortemarie
Kapler's most extreme male).
"I did succeed, but it took eight years to convince people. Little by little, the breeders started to listen and, little by little, they were convinced by the facts that I presented to them. I did not create the Maine Coon look, the Americans did. I did, though, choose for our standard the Maine Coon Standard which was different from that of the NFC and it is no secret that I chose the TICA standard. To me, the CFA Maine Coons were too close to the NFC, a problem that we have even today." She was the second person to import cats into Denmark and was instrumental in getting the Maine Coon accepted in that country. To begin with, the ideas of the breeders in Denmark varied hugely, although they are totally in accord these days. Dortemarie says that it was all very frustrating in the beginning, not at all amusing! But she fought her way through with pictures, articles, books, anything she could obtain from the States and she went to as many US shows as possible, CFA, TICA and CFF, to learn as much as she could about the different looks. She is now satisfied that the Maine Coon in Denmark is on the right track.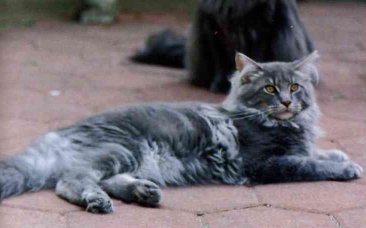 Guldfakse Fitzwilliam
Dortemarie's story of her first introduction to breeding could almost give the impression that it happened by accident! She was called in the middle of the night by an American breeder, interested in her NFCs - a male kitten specifically. The breeder offered a kitten exchange - a Forest Cat in exchange for one of her Maine Coons. Being the middle of the night, Dortemarie was very sleepy and, although not interested in breeding Maine Coons, thought that owning one might make it easier for her to pinpoint the differences in the breeds. So off she went, in 1985, to a TICA show in New York to make the exchange, taking her NFC male with her. "All the judges told me that he was a beautiful cat but he looked like a Maine Coon!"
It was at this show that Dortemarie's decision was made, she saw two Mt Kittery brothers, very different from each other, and immediately fell in love with Mt Kittery Rumford, making the decision there and then that he was the right type of Maine Coon for Europe, being "as far from the NFC as you can get". There has never been any doubt in her mind since then that her decision was the right one, although she accepts that many different looks can be acceptable and still conform to the standard. Her first Maine Coon was Maineline Acadia, a tortie tabby & white female, followed in 1986 by Maineline Scoodic, a brown classic & white male.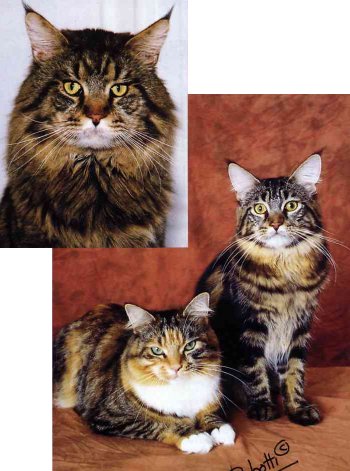 top: Gr Int Ch MtKittery Casco
bottom: Eur Ch Best cat in Italy 1993
Guldfakse Naugatuck (and an
unnamed torbie & white)
Her preference is for the extreme cats from the Heidi Ho lines, 'the Clones' (offspring of Heidi Ho Sonkey Bill x Tanstaafl Polly Adeline of Heidi Ho) in particular. As for the different looks, she agrees that the Maine Coon has changed much over the years, particularly in Europe. But she doesn't believe that anyone is right or wrong - there have been right and wrong cats all through the breeding programs. Much of the problem in Europe, she believes, can be put down to breeders' confusion over the differences in the MC and the NFC, so that they chose the wrong kittens to breed on from and lost their path along the way. She favours tabbies of all colours, without white. The white reminds her too much of the NFC. Within Europe, the colour is relatively unimportant, through, since all points in FIFe judging go to type, none to pattern and colour. Her breeding program, she believes, would not be where it is today without Mt Kittery Socko and Mt Kittery Casco, "Two very different cats but, mixed with my females, I have had good results. The Clones mean everything to my breeding program."
We have all heard many stories of breeders fighting for acceptance, having to stand up and be counted and, possibly, not gaining much enjoyment from the shows along the way. Dortemarie's no exception. In her own words, "The judges were very positive in their reaction to this 'new look', the breeders very negative. I could have stopped here because cat shows where the temperature falls the minute you enter the show hall are not very pleasant to stay in. On the other hand, I was so determined to fight for the type that I was campaigning that I came back time and time again. The next time I imported MCs I went further as far as the type was concerned. I simply imported more and more extreme cats."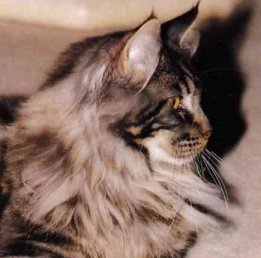 Guldfakse Ottawa
A brave decision, or foolhardy? Well the results speak for themselves. Since there is no quarantine into Denmark, importing was not too difficult. Dortemarie's cats do better in shows in the north of Europe - the Scandinavian judges prefer the more extreme type, the larger the better, while those in southern Europe favour something more moderate. But even in the south, views are changing. Dortemarie's show successes include several European Champions of her own breeding, together with a World Champion in Guldfakse's Naugatuck, a male neuter. Of her imported cats Mt Kittery Casco was Best Cat in Denmark and World Champion in Geneva in 1994 and one of his sons, Maine Mark Dakota, was World Champion 3-6 months, 1995.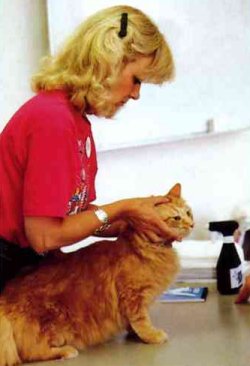 Dortemarie Kaplers
at the show bench.
Apart from being a very well-respected breeder, Dortemarie has also been a semi-longhair judge with FIFe since 1990. It is an occupation which she enjoys and would recommend to others; she loves handling the cats and finds it a challenge to try to find the best all-round cat. Asked whether she feels that only those cats which succeed at shows should be used for breeding, she says "No, I do not. Breeder quality with the right combinations in the background can do just as well, and you know how many different opinions there are as to how the Maine Goon should look, so I have breeding cats which are never shown, as they would not do very well at some shows. As a judge, I judge according to the standard, not to what I have at home. I have two different looks in my cattery; the classic look and the very extreme.
Asked how she chooses cats with show potential from her own litters, she says that one can often tell from birth if a kitten has potential. "New-born kittens show their type. Unfortunately, this alone does not do it. I keep an eye on the good-looking ones and wait. When they are three months old, they can be classified as to whether they are show-breeder or pet-quality. To be able to do this, one must know one's bloodlines exceptionally well. When making outcrosses, you can not tell very much, you can only guess." When looking at newborns, Dortemarie looks for a broad, square muzzle and a very deep chin, ears placed on the back of the head ("and I want them to move straight up the head") a long body with a very long, thick tail and heavy boning with huge paws. Last but by no means least, very precise tabby patterning. The coat can be judged for good length at three months, when she says the kitten should have long guard hairs. If it does not, in her lines, the coat will never be long. She does not mix long and shorter-coated Maines, since the coats will then become shorter. She likes her cats to be 'macho', not too refined and narrow. She wants a cat which looks the way a working cat should look and suggests that new breeders go away and study the NFC, compare it with the MC, then decide what type they want. Although she has not worked herself with Foundation Maine Coons, she achieved good results with Foundation NFC`s and feels that the right unpedigreed cats still have a valuable place within the breed.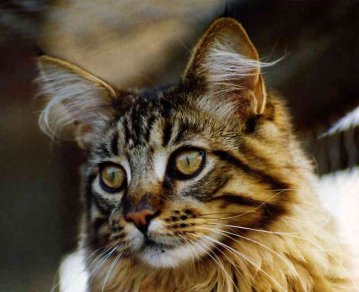 Guldfakse Dundee
For her own specific breeding plan, Dortemarie chooses to keep to 'like to like' - she doesn't totally outcross, preferring to line breed. She prefers not to mix two different 'looks'. She will also inbreed from time to time, saying "I cross my fingers and hope for the best because, no matter how healthy the cats seem to be, there is always the risk of 'pulling something unexpected forward'." She agrees that different looks can be discussed within a standard but not different TYPES. Here she makes a clear distinction. Length of muzzle may be variable, but certainly not the set and size of the ears - a standard can not make allowances for three different ear sets. The profile can be open to discussion: "CFA has one, TICA has two, FIFe has? (as long as it's not a NFC profile)." Cats with minor faults, she believes, make perfectly good breeding stock, as long as their good points outweigh the bad - an irregular tip to the tail, for instance, or unclear tabby pattern. Faults in conformation, such as short legs, short heads or small ears should not be included in a breeding program. The background of a cat with a fault should be taken into account - with the right male or female, this cat could produce beautiful kittens. It is very much a question of knowing what you are working with."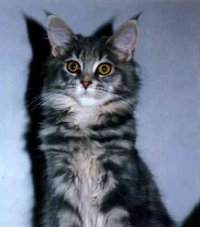 Guldfakse Hope
As well as breeding type-to-type, Dortemarie believes that one achieves better success by specializing in certain colours. She puts type before colour but is happiest when she reaches her goal of getting both in the same cat! She is worried that the lack of concern for colour and pattern in most the European standards will undo all the good that has been done by American breeders in this direction. She also feels that, if a breeding plan is obviously not working, it is probably better to give up and start again. She quotes breeders who have, in the past, tried to correct existing problems by introducing one or two new cats along with their originals and had no success.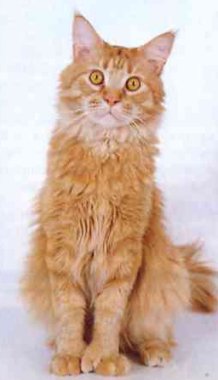 MtKittery Socko
(a polydactyl)
Dortemarie is quoted earlier as saying that her breeding program would not be the same without two cats, one of whom is Mt Kittery Socko. He added more to her plan than most breeders have - he is a polydactyl Maine Goon, imported originally as a pet after Dortemarie had fallen in love with another polydactyl she had seen in the Calicoon cattery. She says "I changed my plans of not breeding with him when I saw him develop. He had size, muzzle, boning, muscles, a very feral look - and a wonderful temperament. I would have died to get all these things into my breeding, so I started using him. A couple of other breeders were also invited to use him, and I put down rules about the polydactyls. No polydactyl male kitten can be used for breeding, only the normal 5/4 males. Polydactyl females can have one litter per year. The reason for this is that a polydactyl male used regularly can produce many kittens with extra toes. A female used once a year does not. I want to make it very clear that I never intended to have a group of polydactyls - and I never wanted them to be recognised. I wanted all the good things mentioned above, not the extra toes. I now have a great-grandson of Molly P, the mother of Socko. He is close to the goal of what I wanted. I also have a great-granddaughter of Molly, and again I am very satisfied. Type, temperament and no extra toes.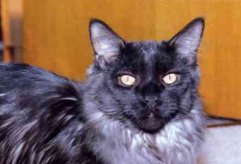 MtKittery Smokie
"I do not want a group of Maines with extra toes. I love to have them as pets and maybe one for breeding and I wish that they could be accepted in the show class for Neuters. They would do no harm at all and maybe we could benefit in the long run because the polydactyl Maines from the lines that I have are all very, very typey. In keeping with my philosophy regarding polydactyl stud cats, Mt Kittery Socko is now neutered."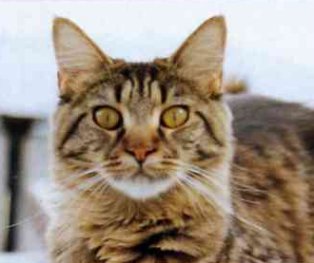 Guldfakse Madburry (F)
Brn Mac Tabby.
Dortemarie's household consists of two breeding males and a younger boy, four females and, at the time of going to press, six kittens. She also has two neuters, a 15-year old male and an 11-year old female. They all live happily with free run of her 6-room apartment in Copenhagen. " My cats are not caged and have never been caged. I enjoy it, because I do not have too many litters per year and I have a friend who helps me with the cats when I travel." She tells a story of Socko, who loves to watch television. "If it is turned off when he wants to watch, he puts his right 'hand' into the video, messes about a bit, pulls it out, sits back and looks at the TV. When nothing happens, he gets very upset. "Why does it not work when I do it, when it does when mom does it?"
MtKittery Pemaquid
Asked what her overall philosophy is, Dortemarie says that it is reflected in the whole of the above story. She is pleased with what she has achieved, although it hasn't been without its problems. She firmly maintains that starting with the NFO was a great help and that all her visits to the States have been invaluable. She has a special relationship with Barbara Washburn and the Mt Kittery cattery and has had the opportunity to learn from some of the best teachers, including Barbara herself, Steve Clair and several TIGA judges. The final question was that old perennial, "If you had your time over again, would you change anything you have done?" The answer? "No!"
Dortemarie Kaplers may be contacted at: Rosenorns Allé 16,3., DK-1634 Copenhagen V., Denmark. Tel: +45 31 35 8770

© "Maine Coon International", issue 7, 1996.
Reprinted with permission.