"This page was originally a part of the Maine Coon Heritage Site, a site that was first created in 1998 by Cynthia Bowen (Coontopia), Ulrika Olsson (Ylletrollets), Astrid Straver (Tricks and Tails) and Janet Marr (Furkats). It was then taken over by PawPeds, and it is now split up to fit better with the structure of PawPeds' website."

Tanstaafl Cattery
Beth Hicks
Beth judging in Japan, November 1998
For those who don't know, when your cattery is being profiled you get a list of thirty-two questions to answer! The first one is to give a brief personal profile. My first thought was, "Give my age?!" Actually I don't really mind - I am 49. I was born in Macon, GA and lived there for 24 years and then moved to Memphis, TN, 25 years ago. I work in the media department of an advertising agency and my specialty is ordering the time for radio commercials and setting up promotions for clients. I am divorced and have one son who is seventeen.
I never had any pedigreed cats before Maine Coons. I grew up in the country and we always had 3 or 4 "alley cats" so I have always lived with cats. They were, of course, "in and out" cats. My Mom, who is 80, still has three. When I got married, I had to have a cat of my own so we found a longhaired brown classic tabby kitten at the local pound. When Nuisance was about a year old, Mike brought home Cats Magazine that had silhouettes of the breeds. Nuisance looked like the one for the Maine Coon, so we wrote to MCBFA for information.
At that time you could enter a foundation cat in an ACFA show, have three judges look at the cat, agree that the cat looked like a Maine, register and show the cat as a Maine. So we entered Nuisance in a cat show in Savannah, GA. We had NEVER been to a cat show! That fact was extremely obvious as we stood in the vetting in line with our cardboard carrier from the vet that said, "I Am Feeling Much Better, Thank You!" Fortunately everyone was kind and helpful to the "newbies". Sometimes it is hard to do but I try to remember that first show and give new exhibitors the kind of help I received. So Tanstaafl Cattery's first Maine Coon was a neutered Maine Coon "Wannabee". But that wannabee is the cat that got us interested in Maine Coons.
My cattery name comes from one of my favorite science fiction novels "The Moon Is of A Harsh Mistress" by Robert Heinlein. In that book, he used the word "Tanstaafl" which stands for - "There Ain't No Such Thing As A Free Lunch". I agree with that statement - one way or other everything has to be paid for!
In 1972 Connie Condit was the fancier member secretary for MCBFA. She lived in Columbus, GA so we drove down to visit. We got to meet Heidi, Connie's German Shepherd, as well as Bridgett Katt, Andy Katt, Henry Sayward, Seth Parker, and Molly Stark. In January, 1973 we got Heidi Ho's Josie of Tanstaafl, a third generation brown classic torbie.
Our first litter from Josie bred to Henry Sayward was born in September 1974. Ruth, a female from that litter, was bred to Sundar Moses who is from Dauphin de France of Tati Tan. That breeding produced Susie Q. In 1975, we bought Nantiss Ian McTabby who had Dauphin on both sides of his pedigree. Why? The Heidi Ho cats had great size but the head type was rather coarse and some of the females had boning that was a little light. Ian McTabby had wonderful head type from Tati Tan and massive leg boning but was a short-bodied Maine. I wanted to get the Tati Tan head type with the Heidi Ho size. So we bred Ian to Susie Q. I got what I wanted in their second litter - Tanstaafl's Polly Adeline of Heidi Ho, born in November 1977. She had the head type but with so much Tati Tan behind her that I was losing size - time to go back to Heidi Ho for size and hope that she was inbred enough to throw her head type. She was. One of the questions asked if any of my cats had been instrumental in other breeding programs. Last year one of the Maine Coon databases with 24,000 cats could trace 16,000 of them back to Polly Adeline! That is not necessarily a good thing, but Polly certainly was a major influence!
From the same breeding as Polly Adeline came Tanstaafl's Isaiah of the Maine Place. He was shown and did extremely well. Isaiah was a very purrsonable fellow! He got loose at a show once and it took Pat thirty minutes to catch him, since he was not at all upset or afraid. He would stand in the middle of an aisle, wait until you could almost get him, and then take of again! Isaiah thought the game of "catch me if you can" was lots of fun!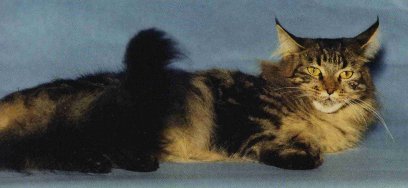 Tanstaafl Molly Brown
(who didn't want to be at this show!)
Heidi Ho Sonkey Bill and Tanstaafl Polly Adeline produced the cats known as the "Clones". That breeding produced a total of 29 kittens in six litters from ]uly 1979 until November 1982. Fifteen of those kittens became a part of other breeding programs including Tanstaafl's Molly Brown. Since I did not want to ship Polly from Memphis to Denver for every breeding, my contract with Connie specified that when she got the brown classic show quality female I was looking for, the litter would be registered as a Tanstaafl litter.
The term "clone" was given to the cats from that breeding in April 1982. There was a big TlCA show in New York. Lynne and I were there along with Bunty Washburn, Carol Pedley, Mary Buckmaster, and lots of other Maine Coon breeders. Both Molly Brown (a brown tabby) and Mary's Heidi Ho Lady Arwin (a silver mack tabby) became Supreme Grand Champions at that show. We were all together in a hotel room that evening when we called Connie to give her the news. While Connie was on the phone, somebody said, "Tell Connie we know she is just cloning these cats and painting them different colors"!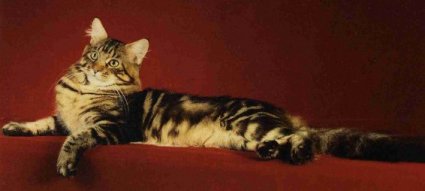 SGC Tanstaafl Druid of Seelieshire,
Best MC, 3rd Best International Cat, TICA 1984
From 1974 until 1985, Tanstaafl Cattery produced 38 litters. During that time the very best were the three litters with a total of ten kittens that we got from breeding Mt. Kittery's Schoodic to Tanstaafl's Molly Brown. Molly was not an extremely feral clone but I did not want to get a look that was any more feral. Schoodic had a very gentle more old-fashioned look and was a very warm brown tabby. I did not realize it until researching old records for this article but all ten of those kittens were sold to breeders. The best of the best was Tanstaafl's Druid of Seelieshire who was Best Maine Coon and Third Best International Cat in TlCA for the 83-84 show season.
We did show but never campaigned a cat. During the 70s, we were still trying to get Maine Coons recognized by all associations. Even in the associations that recognized them, Maine Coons were regarded as "barn cats" by many judges and exhibitors. I went to a lot of shows where there were only two Maine Coon entries - the two that I brought! And still went with home with no finals.
By 1975 I had become a judge in one of the smaller associations - the first Maine Coon breeder to become a judge. When TICA was formed in 1979, I switched to TICA so I have been judging for 25 years - 21 of those with TlCA. Maine Coons have come a very long way during that time and I have enjoyed seeing the change. Our Maine Coons are not "barn cats" anymore!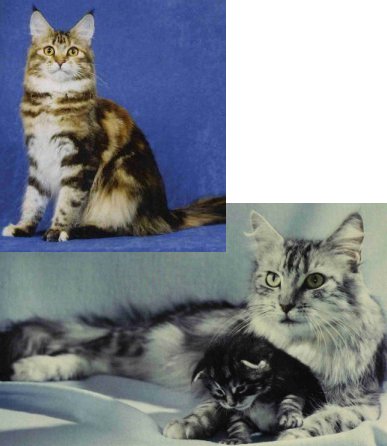 top: QGC/RW Hoosiercoon Kari of Tanstaafl.
bottom: Heidi Ho Camille of Calicoon with
Calicoon Prince Valiant at 4 weeks
pictured in 1991.
As a TICA allbreed judge, I do travel a lot. I average 15 to 20 shows per year and, in addition to the USA, I have judged in Japan and Germany. Judging can be exhausting and stressful but it is also challenging and a lot of fun. The day I stop enjoying handling the cats, I will guit judging. Judging so much does make trying to campaign a cat difficult since you cannot enter your cat in a show if you are judging. We sometimes hear exhibitors complain that "judges' cats always win". Yes, any cat a judge shows will usually do well but not because a judge is showing the cat. It is because as a judge you have a reputation to maintain and cannot take anything less than a show quality cat into the ring! A judge should certainly be able to pick out a show quality cat and know how to groom the cat so it goes into the ring looking its best.
I do not necessarily look for the same thing in my breeding program that I would look for in a show cat. The objective of a breeding program is to combine cats that will consistently produce show quality cats. To do that you have to know the lines and offset the faults that a given cat has. Even two show quality cats can produce a litter of pet quality kittens!
Something, which a lot of breeders don't seem to understand, is that when we are judging we see different looks in all the breeds, not just Maine Coons. Every line tends to produce its own slightly different look and there is nothing wrong with that. Despite those differences, the cats can all still fit the standard! It is at that point that a judge's or breeder's personal preference becomes a factor. I tend to think of the look I prefer as "middle of the road". I do not like the very feral look or the slightly shorter faced, smaller eared, old-fashioned look. I like a look that can be shown in TICA or CFA and do well in both associations!
I do not choose to work with foundation Maine Coons. I do respect the breeders that are willing and able to put in the time and effort that is necessary to produce show quality Maine Coons starting from foundation cats. I also approve of linebreeding. It is the only way to set, and thus consistently get, good type. The key is working with clean lines. Yes, line breeding does result in recessives showing up but that can be a plus. Then you know what is there and can work to eliminate any negative recessive. Crossing two total outcrosses could give you the same recessive without good type!
When I am deciding if a kitten is show quality, the most important factor is type. Second only to that is the kitten's personality. I recently sold a male as a pet even though he was show alter quality. He was shy and did not like strangers and new situations. He would not have enjoyed being a show cat. As a judge, I see too many cats that are probably wonderful at home but they do not like being shown! Tanstaafl's Molly Brown was like that so I showed her just enough to Supreme her and never entered her in another show.
The majority of my kittens are sold as pets but I do sell to breeders. It was easier to sell to breeders years ago since we all knew each other. When someone looking for a breeder contacts me, I ask around and talk to people who know them. I like to sell to people who think of the cats as pets first. I try to be especially careful about selling males to breeders since so many males have to be caged all or some of the time. I also like to find out what physical features the breeder is trying to improve so I can be sure the kitten will be an appropriate mix with their cats. My greatest delight in selling kittens is when people who bought from me 15 to 20 years ago contact me. Their first Tanstaafl cat has died and they want another one. That is very special.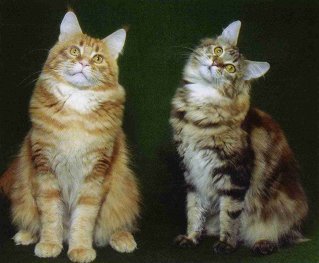 SGC Tanstaafl Copper Penny of SSL &
SGC Tanstaafl Memphis Amity of SSL,
the recent Tanstaafl/Calicoon collaboration.
S: SGC Calicoon's Sherman,
D: QGC/RW Hoosiercoon Kari of Tanstaafl.
Yes, I do sell abroad. In fact, of the six Tanstaafl kittens born since 1999, two are in Germany and one in Switzerland. They were all sold as show quality cats and the two older ones are already Supreme Grand Champions and will probably be Regional Winners in Northern Europe. Much to my delight Bettina Pelkman of SSL Cattery was willing to send Copper and Emma back to me so I could show them here. I hadn't shown a Maine Coon ten years! I had a wonderful time. Especially when I went to pick Copper up from a final and a judge who has known me for 15 years noticed and asked, "Where did you get him?" I really enjoyed being able to say, "I didn't buy this cat, I bred him". The judge looked at me and said, "You haven't lost it, have you!"
---
Calicoon Cattery
Lynne Sherer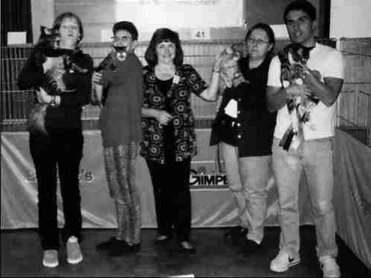 Lynne (centre) at TICA Show in Hürth,
Germany, October 1999
l am a Registered Nurse currently working in a hospital on a cardiology floor. I have been divorced for several years and I have 2 grown sons. I grew up in Wisconsin, lived in Illinois, lived in California for 13 years, back to Illinois for 14 years and now live in Memphis since last year. I started breeding Maine Coons while in California - hence my cattery name: People sometimes ask me if I breed calicos, but no... Calicoon, combining California and Coon.
I have had cats all my life. As a child I brought strays home on a regular basis. My father would not allow me to have more than three cats at a time though! In addition to Maine Coons, I have also owned an Oriental Shorthair, a foundation Himalayan and several British Shorthair and bred a litter of British kittens. The Himalayan was my first purebred cat but pet quality. My first show cats were the Maine Coons.
I first heard about Maine Coons in a Cat Fancy Magazine article about the breed in 1971 which included the address for MCBFA so I joined MCBFA as a fancier member in 1972. In 1973, my husband and I were going on vacation near where a Maine Coon breeder lived - Judy Anceli of Yankee Cats in Boise Idaho - and I arranged to visit her. We were already camping with a HHP, the Himi and an Irish Setter so going to visit a cattery was not too out of line! I fell in love with a 6 month-old red mackerel tabby male and bought him on the spot, adding him to the menagerie already in the car. He was Yankee Cats Rufus. I later bought a white female from Judy and she was named Yankee Cats Queen Victoria. I showed Rufus during the 1973-1974 show season in ACFA and received a color award that I didn't even know about until several years later!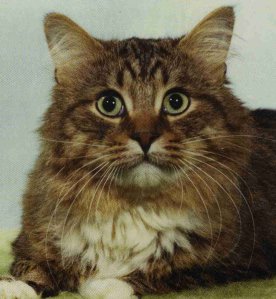 Cacomistle Rocky Raccoon Of
Calicoon, Granded ACFA March 1978,
9th whole MC to grand in the USA
I unfortunately lost both of my first two Maines to leukemia. We didn't know much about the disease then and there was not a vaccine until much later. After waiting a year and testing my other two cats 4 times to be sure they were not affected, I bought another pair in 1975. The female was Belwitch's Buffy of Calicoon, who was a niece of my original male, sired by Yankee's Van Richtofen of Tanstaafl owned by Beth Hicks. The male was Cacomistle Rocky Raccoon O Calicoon bred by Lea Schmidt, also of Memphis. Those two cats were the beginning of my breeding program. I bred them together several times and kept a torbie/white female (Calicoon Sweet Sue) to then breed to an outside male. I also bred Rocky to an outside female and kept SGC Spavinaw Blu-Macks of Calicoon as my second stud cat.
I first started going to cat shows with Rufus in the fall of 1973. At that time, ACFA was the only association in my area that accepted Maine Coons for Championship status. My first cat to grand was Rocky and his son, DGC Calicoon's Sam Francisco of Calicoon, was MCBFA Kitten of the Year in 1977-1978. Another of his sons, Spavinaw Blu-Macks of Calicoon, was MCBFA Kitten of the Year in 1978-79 and the first blue Maine to become a grand champion in any association. SGC/lnt. Winner/OS Calicoon Hooligan was one of the top 20 cats in TICA in 1984 and the first red series Maine Coon to achieve a top 20 title possibly in any association. Over the years I have had a number of winners: Calicoon Charliemaine (Int. Alter winner twice), SGC Calicoon Captain Clifton Curtis (Int. top 20 winner), SGC Prince Valiant, SG Alter Calicoon Seahawk Helse, SCG/RW Calicoon Sherman, among them.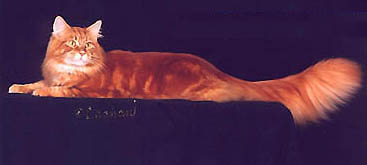 SGC/IW/OS Calicoon Hooligan in 1984,
aged 18 months. 2nd Best MC, 10th Best
International Cat, TICA 1984. Darn that Druid!!!
I sometimes work with other breeders but only provide stud service on a very limited basis. When I lived in California, I co-owned a number of cats with my friend Margaret Rice, who helped me show and breed. She did not have her own cattery but co-owned a number of cats with me, including Calicoon Hooligan. This allowed me to have the space to keep more breeding cats than I otherwise would have been able to do. It is hard to say how many of my cats are in other people's pedigrees because I have been breeding so long. I know Blu-Macks is in the Maine Coon database thousands of times. My current stud cat Calicoon Sherman has sired about 40 litters himself.
I suppose I would say that I like the TICA "look" for my Maine Coons, which some people may call feral. I don't like an extremely "wild" looking cat but prefer a moderate look to the head with an uneven shaggy coat. I would like to see a more universal "look" for the breed so that there is not such a difference in the interpretation of the standard from organization to organization. In some other breeds, like Persians for example, a good cat will do well in any association. In our breed, unfortunately, there is still a big difference in the "looks".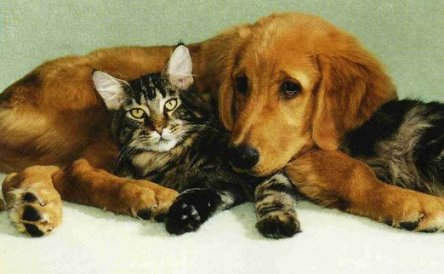 Jake and Sherman as youngsters
Currently, I am Vice-President of MCBFA and have held several other offices in that organization, including Scorer, Regional Director, and President twice. I am a member of the TICA Maine Coon Breed Committee. At the present time, the only other pet I have is Jake, a very large Golden Retriever who thinks he is a cat and loves kittens! They will sit on his back - several at a time when they are small. This is great when kittens go to new homes where the owner also has a dog; they adjust very quickly and aren't afraid.
I am a TICA Allbreed Judge and have been judging since 1986. The cat fancy has given me the opportunity to see many places that I would not otherwise have been able to visit. Travel and E-mail have also given me the opportunity to get to know breeders all over the world. There is no set "have to be" at a show for either a judge or exhibitor but, as a breeder, the old adage used to be "breed two years and show one or people will forget who you are". You show to get the titles your cats are capable of accomplishing, within the limits of your budget and time. As far as judging, usually once a month is the minimum needed to keep current and up to pace but most judges will judge more than that. I have found that twice a month is comfortable for me although there are exceptions.
I do not look for exactly the same thing in a show cat that I would in a breeding cat. In the show ring, you are looking for cats that closely meet the written standard, whereas in a breeding program, your goal is to choose a cat who will work well with the cat he/she will be bred with in order to PRODUCE a cat who meets the standard. I have often seen a cat in the show ring with some outstanding feature such as a high ear-set carried to extreme. The ears may be too high or close to meet the standard as a show cat, but as a breeder, that cat would be wonderful to offset a mate with too-wide ear-set. Or perhaps the chin may be too pronounced to be a 'perfect' show cat but it would be a good breeding cat to improve what is produced by a cat who has too little chin.
I do agree with breeding from foundation. I think it is important to bring in some new blood to our gene pool. But, doing foundation breeding is not as easy as just putting two Maine Coon look-alikes together. Foundation breeding should be done only by someone who can devote the time, attention and proper testing/evaluating to the process. Cats used in foundation programs should be tested for HCM and other possible diseases and evaluated for a number of generations. This takes time, space, and money and is not easy.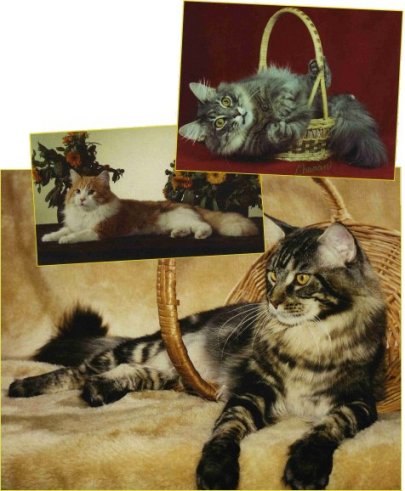 top: SGC Spavinaw Blu-Macks of Calicoon. First
Blue tabby to grand in TICA, lived to be 18 years.
middle: DGC Calicoon's Sam Fransisco of Friscoon.
Granded March 1979. Ow: Pat Herrmann.
bottom: SGC Calicoon's Sherman.
I also agree with line breeding to a certain degree. From my reading and discussions with geneticists, it is the way to set type/characteristics in an animal. When two totally unrelated animals are used in breeding, the offspring will not be consistent in type. You might get some good kittens but you might also get a majority of kittens that have received the worst characteristics of both parents. I know that some breeders would not agree with this, but this is my personal conclusion, reached after much evaluation of the subject. Since I only breed a few litters a year, I sell only an occasional cat for breeding. I usually will try to get a recommendation from someone that I know if the person purchasing the cat is not known to me. If possible, I will visit the prospective buyer's house myself: I try to work with the person buying the kitten, especially if it is a new breeder, and help with breeding and showing questions. I encourage them to work toward becoming an MCBFA Breeder Member. I have sold some cats abroad to Japan, Germany, France, England and Switzerland.
I look for type and size in developing kittens because both are necessary for a well-balanced cat. This does not mean choosing the largest kitten in the litter but a small kitten would also not be a choice. I always have to laugh at people who say that they have show quality kittens at 3-4 weeks of age. I wait until 3-4 months at the earliest to make that decision, and there have been times that I have been fooled even at that age! The best war to tell how your kittens will turn out is to know the parents and their lines well. After doing a breeding several times, it makes it easier to tell kitten type at an earlier age. My lines tend to develop slowly which also makes early decisions and showing kittens difficult.
Working Together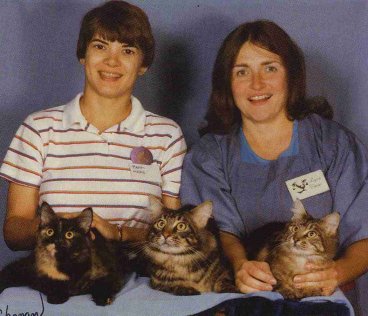 Beth and Lynne at the Dallas Annual,
September 1982. L to R: Tanstaafl Merris
Lee, Heidi Ho Canth of Tanstaafl,
Tanstaafl Ramoth of Calicoon.
Lynne and Beth have been friends for 25 years, meeting for the first time when Lynne bought Belwitch's Buffy of Calicoon, sired by Beth's Yankee's Von Richtofen of Tanstaafl. When both were divorced, they bought the house together - after a couple of years' discussions since, as Beth says, 'we didn't want to ruin a very good friendship!' The separate cattery names will be maintained with, currently, three Calicoon and two Tanstaafl females but they will keep only one stud cat. Right now, that is Calicoon Sherman, whose pedigree goes back to Polly Adeline, so that the Tanstaafl lines are also strong in him. Lynne says 'we have been Calicoon and Tanstaafl for too long to give up our cattery names to a merger. We also have some differing ideas about breeding, which neither of us would want to change.' Beth tends toward brown classic tabby/torbie, while Lynne enjoys breeding for other colours, including blue tabby, blue silver, etc. Their next stud cat will probably be co-owned, though, since it will probably be from Beth's female and Lynne's Sherman.
Most of their retired breeders are placed as pets but they currently have one retired spay and, of course, there are always some very special cats, like Sherman, who will be a permanent resident when he retires. Beth and Lynne are agreed that the total number of cats will be kept small since, with care, it is not necessary to have a large number of cats to produce quality kittens and all the cats are pets first, deserving time and attention from Lynne and Beth. As Beth says 'Too many become work, instead of fun'.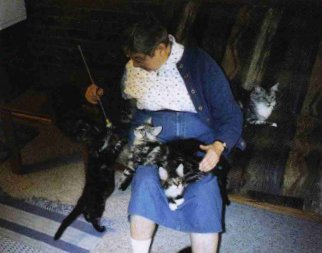 Kitten buyer in the sunroom
- tough decision!
In Lynne's previous home, she had traditional cattery facilities, with tiled walls and floors and several cages for occasional use, while Beth has always raised her cats as part of the household. They bought their current house because of its large sunroom, where the mothers with litter-trained kittens live. It is bright and airy and has eliminated the occasional respiratory problems, which can sometimes be a problem in a more confined area, and Lynne and Beth spend much of their TV time in there with the cats. Sherman has a large cage in a specially air-conditioned area, separate from most of the girls, with female company - and Jake! - rotating, so that he is never lonely. The rest of the girls have the freedom of the house and Lynne and Beth enjoy having the time and space to spend time with each of their cats on a daily basis.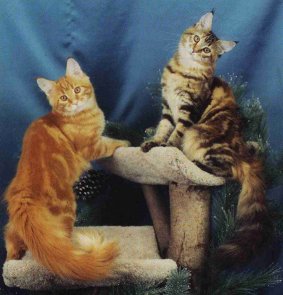 Tanstaafl Copper Penny and
Tanstaafl Memphis Amity as kittens
Asked about their breeding plans for the future, both agree that a new male from Hoosiercoon's Kari of Tanstaafl, bred to Sherman, is their aim. That breeding has already produced SGC Tanstaafl Copper Penny of SSL and Tanstaafl Memphis Amity of SSL, owned by Bettina Pelkmann of Germany, so the combination is already proven. One of Lynne's litters from Sherman also produced SGA Calicoon Sir Milo, owned by Alice Pursell of Illinois, so the hope is that Sherman will shortly produce a son good enough to enable him to retire, since he is now 9 years old. When the right boy turns up, Lynne says that she will be showing more and judging less, for a while! Beth, meanwhile, says that, although she feels that she will never again make a contribution like that of the Clones, because of the great progress made by the breed over the past twenty years, she is thoroughly enjoying being an active breeder, again!

© "Maine Coon International", issue 23, 2000.
Reprinted with permission.