Contact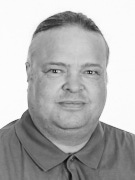 Position:

Technical staff
This email address is being protected from spambots. You need JavaScript enabled to view it.
Download information as:
vCard
Miscellaneous Information
Kjell is also working with the programming of the databases. He made the first versions of NetPedigree, but when he was toooo slow, Peter took it over. ;-) Still Kjell is working on yet another version of NetPedigree, and he is consulted every now and then about the tricky technicalities. Kjell lives in Sweden with his pet Maine Coons.