Contact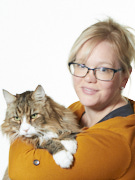 Position:

asa@pawpeds.com
Download information as:
vCard
Miscellaneous Information
Åsa was lured into the web of the Spider in 2006 by maintaining the Maine Coon database. However, she soon got deeply involved in maintaining and co-ordinating the health programmes, partly due to her academic background and previous work in veterinary clinic. Åsa lives in Sweden with her two kids. She run a small Maine Coon cattery under the name Maine Orchid.