Contact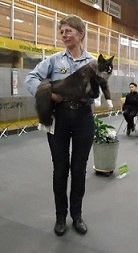 Position:

Course Leader: G1
Sweden


This email address is being protected from spambots. You need JavaScript enabled to view it.
Download information as:
vCard
Miscellaneous Information
Ingegerd Wiklund and her 8 male cats, 4 Norwegian Forest Cats and 4 Maine Coons, live in Sundsvall, at the coast, in the middle of Sweden. She is the owner of the cattery name S*Finnugur's MCO & NFO. In the current situation, there are no fertile males in her cattery, but you should never say never. Ingegerd is teaching the Swedish G1 course since 2011.