Contact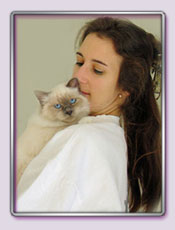 Position:

Course Leader: G2
Argentina


This email address is being protected from spambots. You need JavaScript enabled to view it.
Download information as:
vCard
Miscellaneous Information
Diana Wahrlich was raised among animals of all kinds and types on the countryside reading eagerly the books of James Herriot. She started the veterinary career but couldn't finish and got involved with cats to keep her passion for animals alive. Her first Birman came into her life on Valentine's Day of 1996 and she breeds under the prefix of Shamandu in Argentina. She worked as a steward for several years at FIFe shows and has plans to become a judge in the future when retiring. She teaches in our English courses.